BRING ATTENTION TO THREATENED SPECIES AND WILDLANDS KT'S WAY
Artist and activist, Katherine Homes (KT) left the nonprofit world, where she worked in strategic partnerships, storytelling, development and fundraising, because she wanted to find a way to merge her love of art with her love of bringing attention to threatend species and wildlands.

After launching a Kickstarter campaign to raise funding for her solo music album, Speak - she gifted hats with her artwork on them to supporters- she launched her brand at a festival in Colorado. The hats took off and she couldn't think of a better platform: People walking around with billboards on their heads bringing attention to threatened species and wildlands.

6 years later we can be found in stores all over the country, most notably working with Title Nine and REI. We are a small company with a loud voice and big dreams to help positively impact the natural world.


Pic: KT and Liz during a photoshoot talking about Sea Turtles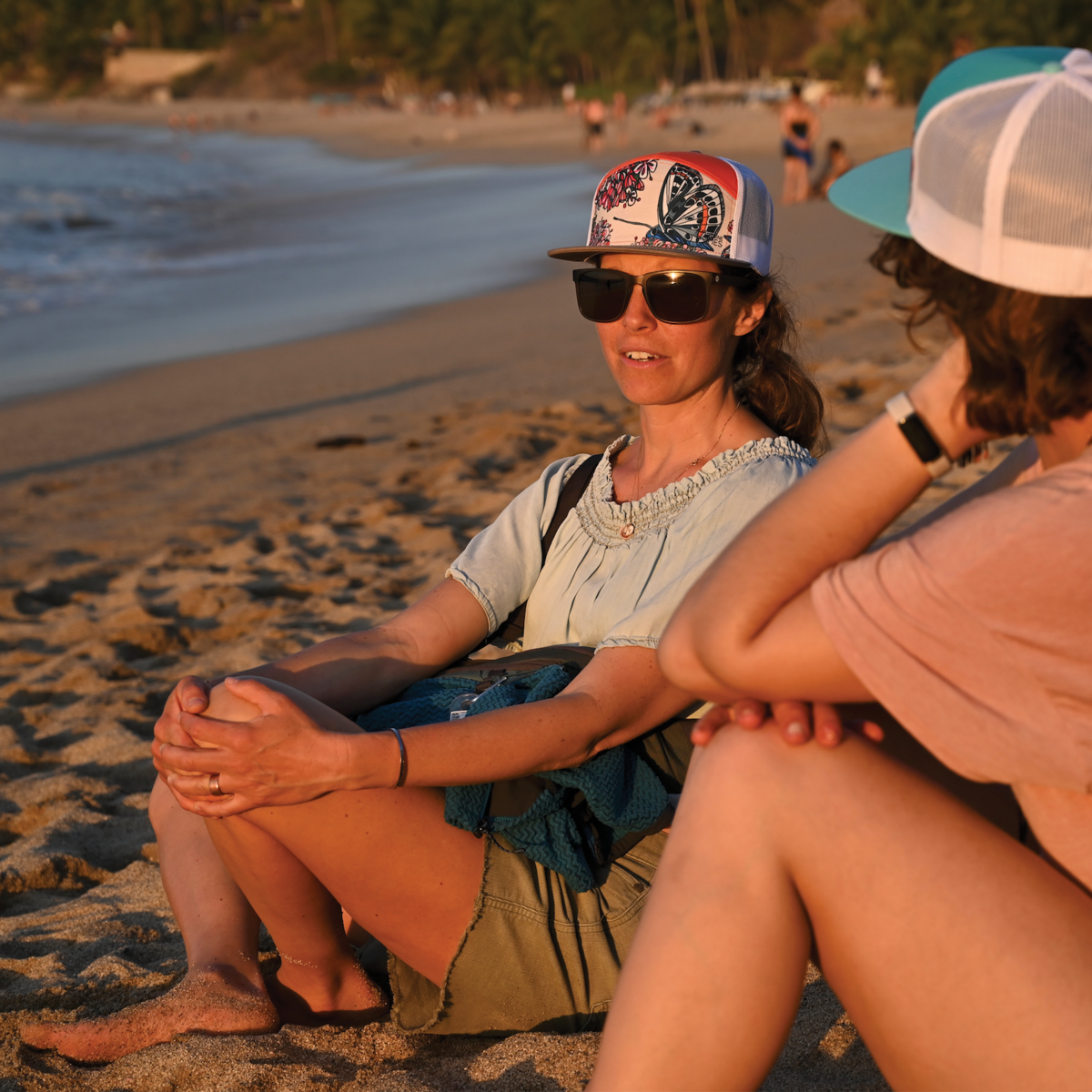 WORK COLLABORATIVELY TO INSPIRE OTHERS INTO COLLECTIVE ACTION
We believe art has the capacity to shift perspectives. Katherine Homes puts a spotlight on threatened wildlife, wildlands and the importance of conservation efforts through affordable and functional design. How? By using products as billboards for these important messages, igniting conversation, and converting it into positive action.

There is too much work to be done to go it alone. We love other individuals and businesses who are using their public platform to inspire the masses and create change. We want to work with them. We think our non-profit partner organizations are amazing and want to do everything we can to support their work.

In 2021 we pivoted and started to support organizations that are only female founded and/or run focusing on conservation, wildlife, and climate change. Why?

According to Network For Good :
Only 21 percent of large nonprofit CEOs are women.
Just 7.5 percent of all nonprofit executive staffs (and 14 percent of nonprofit boards) are women of color).
Women in nonprofits make 66 percent of the salaries of their male counterparts.


OUR ENVIRONMENTAL IMPACT
We work with various organizations to plant trees to offset our carbon footprint.

We choose sustainable materials when offered and when we are able to. All designs are painted on sustainably sourced wood.

Hats - Are made in facilities that abide by environmental regulations and better wages and working conditions. We also have also been encouraging them to offer more sustainable products = 100% recycled mesh, 100% recycled poly / twill fabrics and organic cottons - although in very limited colors! Most of our hats are made with 100% recycled poly mesh and other hats also use 100% recycled poly twill fabrics or organic cotton fabrics when available.

We always aim to source the best products possible. We won't source wool unless we know where it comes from and that certain regulations are in place protecting their wellbeing. We do not source leather.


Notebooks - Made in Turkey. 1000% FSC paper. Eco Friendly inks: free of mineral oil, cobalt salts, and toxic substances.


Coloring Books - Made with 100% FSC- certified papers. Made in the USA.